General Meeting
Tuesday, May 14, 2013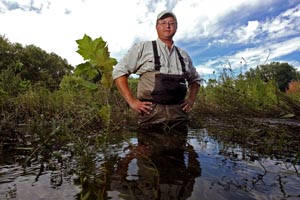 Brian Cowden presents his annual
"Musconetcong Home Rivers Initiative Update"
Brian Cowden is on TU's Eastern Conservation staff serving as the Coordinator for the Musconetcong Home Rivers Initiative in northwest New Jersey. He has been a life long conservationist active in causes related to New Jersey's outdoor pursuits. His interest in conservation led Brian to become an active TU volunteer running Trout in the Classroom (TIC) program as state-wide coordinator. Later, Brian joined TU's New Jersey state council as vice chair. After 20 years in corporate sales, Brian joined the Eastern Conservation staff in February 2008. The Musconetcong Home Rivers Initiative is designed to work closely with landowners and non-profit, local, state and federal agencies, as well as performing public outreach and education to protect and restore the beautiful Musconetcong River and its tributaries in this 158 square mile watershed that drains into the Delaware River. When not working in the "Musky", Brian is known to follow his Brittany through the grouse and woodcock uplands or fly fish for trout or striped bass. Brian resides with his wife and daughter near the upper Musconetcong watershed in northwestern New Jersey.
Tuesday, June 18, 2013 CJTU Picnic meeting
6 pm to 9pm
Tuesday, September 10
Jay "Fishy" Fullum"
Capsule Classroom
Capsule Classroom is taking a little break, this month and next.  We will return in September with tips, tricks and techniques to enhance your time on and off the water.
American Legion Hall
137 New Market Road
Dunellen, NJ
Meeting starts at 8 PM
Non Members are always welcome!
News & Events
Join us for a CJTU Member Picnic at the June meeting
Tuesday, June 18, 2013
6 pm to 9pm
Dunellen American Legion
137 New Market Rd, Dunellen, NJ 08812
NJ Trout Unlimited Women's Initiative
Be a Part of it...Make a Difference...Leave a Legacy...
Trout Unlimited is committed to supporting all anglers. TU National has launched a campaign to encourage women anglers to become involved in their local chapters. The Women's Initiative (WI) program is interested in establishing a network of women in the state who are committed to protecting local rivers and following TU's mission to make rivers cleaner, healthier, and more fishable. Kelly Elizabeth Buchta is the Women's Initiative coordinator for the state. Her main goal to ensure that women feel welcome at chapter meetings and included in projects and river outings.  As a grassroots effort campaign, it is her hope to increase female participation on a statewide level and to empower women so that they enjoy the benefits of TU.
The first event will be held on Saturday, June 1, 2013. It is an Open house event geared to women new to the sport of fly fishing to the seasoned angler. Casting lessons, tune ups, fly tying demonstrations and fishing encompass the program.
For further information, please contact Kelly at kebuchta@njtu.org
Thank you for supporting NJTU and the Women's Initiative!
Richard Thomas | New Jersey Council Chair
Trout in the Clasroom
Here is a video that shows the heart beat of a sac fry. It comes to us from a TIC program located in Montana.