General Meeting
General Meeting
Tuesday, September 8, 2015
Jerry Coviello

"Wyoming's Greybull River "
Wyoming's Greybull River runs through some of the most remote backcountry in the Greater Yellowstone. Along its 90-mile corridor, water travels from snow-capped peaks in the Absaroka Mountains to sagebrush flats at its confluence with the Bighorn River. The Greybull River watershed is famed for supporting the best genetically-pure populations left of Yellowstone cutthroat trout, a species decimated elsewhere in the West by non-native species and altered water flows. The river's high-quality aquatic habitat is spurring efforts among many landowners to join with partners to protect and restore this biologically-important watershed.
American Legion Hall
137 New Market Road
Dunellen, NJ
Meeting starts at 8 PM
Non Members are always welcome!
News & Events
WILD Outdoor Expo
September 12 & 13
The NJDEP's sixth annual NJ WILD Outdoor Expo will be held Saturday and Sunday, September 12-13, at the Colliers Mills Wildlife Management Area in Jackson Township, from 10 a.m. to 5 p.m., rain or shine.
This fun-filled family event is designed for visitors to discover new ways to appreciate and enjoy New Jersey's great outdoors. Participants can try a many of the outdoor activities available within the state's forests, parks and natural areas such as fishing, kayaking, hiking, shooting sports, rock climbing, camping skills, compass navigation and wildlife watching. Demonstrations of sporting and tracking dogs, historical re-enactments, SCUBA dives, reptiles and raptors, turkey calling, nature photography and much more await.
Admission and parking are free. All activities are free with the exception of a $3 fee to use the climbing wall. For more information visit http://www.wildoutdoorexpo.com/
Point Mountain Project
Fred Simonson
Finally Underway!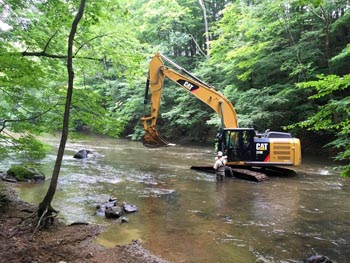 The Point Mountain Stream Restoration Project has finally reached the "Doing Stage". All permits, permissions, and endangered species studies are in hand and in-stream work will officially begin on June 16th . We had our first official work day at Point Mountain on Wednesday June 3rd when a group of CJTU members spent some time clearing & trimming overhead tree limbs as well brush from the access road that the heavy equipment will use to reach the Musky.
After the work session Brian Cowden took the group on a quick river tour of what will happen where in the restored river section. The work will dramatically improve the fishable water in the Point Mountain TCA stretch. CJTU has every right to be proud of the improvement as we are a major project sponsor, both financially and with our physical labor as well.
Trout in the Clasroom