General Meeting
Tuesday, October 9, 2018
Ozzie Ozefovich
The Underwater World of Trout
A Video Presentation
Streams and Rivers I've Fished and Filmed
The Connetquot River -- Long Island, NY
Boiling Springs -- PA
Big Spring -- PA
South Branch of the Raritan -- Claremont Stretch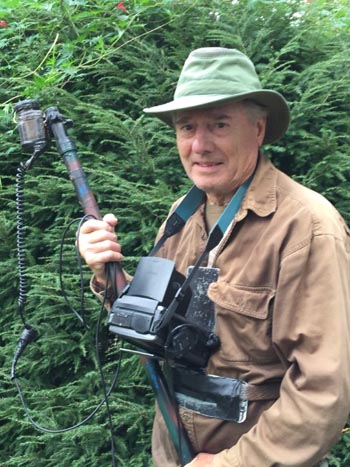 Ozzie has spent considerable time volunteering with the Central Jersey Trout Unlimited chapter where he serves on the Board of Directors and is the coordinator for the Trout in the Classroom program. Over the years he has worked with the NJ Division of Fish and Wildlife by being involved in K-12 education programs, stream restoration projects and stream surveys.
In the late 90's Ozzie combined his love of trout with a lifelong interest in movie making. He has produced a series of underwater videos exploring how trout feed, spawn and behave in streams and rivers. Dvd trailers can be seen on www.underwateroz.com
He presents his many video programs at the Fly Fishing Shows, Trout Unlimited Chapters, and other venues throughout the states.
November 13, 2018
Bob Romano
"Rangeley Lakes Region - Maine"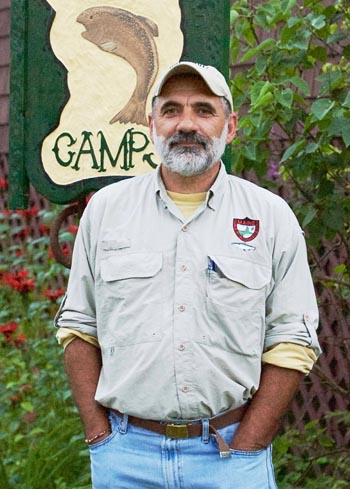 Bob Romano and his wife, Trish, have owned a camp in the Rangeley Lakes Region of Western Maine for more than thirty years. This is a region of the country rich in sporting tradition and known for its native brook trout and wild landlocked salmon. Bob's program includes 100 photos of the lakes, rivers and streams that remain as they were when Carrie Stevens tied her Gray Ghost streamer. Bob has updated his commentary to address not only when and where to fish, but also as what flies to use.
The tenth-anniversary edition of Shadows in the Stream, Bob's book of essays about fly fishing, is often used by anglers as a guide to fishing the Rangeley Lakes Region. His latest book, THE RIVER KING – A FLY-FISHING NOVEL will also be available for sale.
Bob is also the author of the Rangeley Lakes series of novels that include North of Easie, which won second place in the 2010 Outdoor Writer's Best Book Contest. Romano's essays and short stories have appeared in various anthologies, including Christmas in the Wild, Fresh Fiction for Fresh Water Fishing, and Wildbranch: An Anthology of Nature, Environmental, and Place-Based Writing.
He writes articles for various magazines and newspapers and does his best to keep up with his blog: forgottentrout.wordpress.com and his website: www.forgottentrout.com
December 11, 2018
Annual Holiday Gathering with Fly Tying
Our Meeting on December 11th will feature some of the old and some of the new. We will start the meeting at 7:30 pm with pizza and soda available. As for the old, as in past December meetings, we invite our Chapter fly tiers to demonstrate their patterns, techniques and general prowess to other attendees. So if you are one of these tiers, bring you materials and tools and be prepared to show off.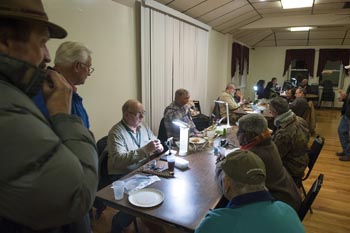 Due to last year's success we will continue three new twists. First, we want to encourage those who have never tied a fly to get started. So please invite any friends , neighbors, spouses, family members, significant others or whatever that fit this category to the meeting or come yourself and one of our excellent instructors will provide guidance in tying a first fly. Tools and materials will be provided.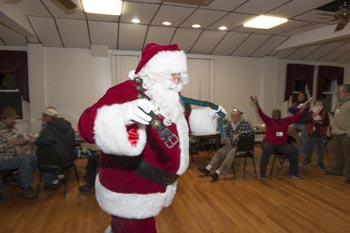 Second, for existing tiers who have questions about a particular pattern or technique, bring the relevant hook and materials and your own vice and tools and our instructors will guide you in answering your questions. Could it be that none can help? We doubt it. But maybe you can wipe the smug confidence off their faces to the delight of all attendees. Finally, for those who never have or never will tie flies, we invite you to share social interactions with other Chapter Members and witness the appearance of Santa Claus at about 9:00 pm. Santa will have special gifts to those who have been good during the last year. Even if you haven't been good Santa keeps poor records and will most likely still give you something.
Anyway, come on down and have a great time.
January 8, 2019
Cole Baldino
Bigger Wild Fish and Healthier Watersheds:
Combining Science & Fishing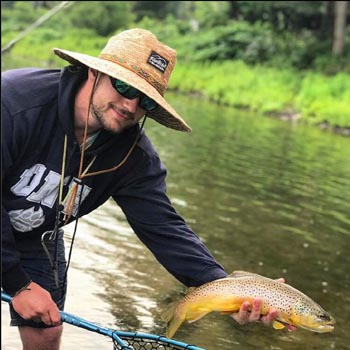 Cole will take you through the Home Rivers Initiative's Upper Delaware River Program within NJ. This presentation will touch on threats to current native and wild trout in NJ, planned/future projects and how we do it, how to get involved and what you can do on the river to become a better conservationist and catch more fish.
Cole graduated from SUNY Environmental Science & Forestry in Syracuse with a major in watershed science and coldwater fisheries biology, with the hopes of working for TU. He is now the Upper Delaware River Manager for TU's Home Rivers Initiative, where he implements watershed restoration for native and wild trout populations through NJ's Upper Delaware River Basin. In his spare time, you can find him floating the Upper Delaware or rock climbing when he's giving the trout a rest in the summer heat. He currently lives right over the border in PA''s Delaware Water Gap.
---
American Legion Hall
137 New Market Road
Dunellen, NJ
Meetings starts at 7:30 PM
Non Members are always welcome!
---
News & Events
---
2018 Central Jersey Trout Unlimited Fall Banquet
Saturday, October 20, 2018
Tickets will be available at Tuesday nights meeting!
Central Jersey Trout Unlimited is excited to invite members and friends to attend our 2018 Fall Banquet! The 2018 CJTU Fall Banquet will be held on Saturday, October 20th at 6 pm at the Grillestone Restaurant, 2377 U.S. Highway 22, Scotch Plains, New Jersey. The Grillestone Restaurant is a lovely venue with a wonderful menu.
The Banquet will include a delicious four-course meal. It will be an opportunity for members to get reacquainted, for family and friends to meet our members and for all to share an evening of fun, good food and raffle prizes. Among the raffle prizes will be fishing trips including one trip for two to the private waters of the Henryville Flyfishers, rod outfits such as a 9' 9wt, a 7'6" 4wt and a Tenkara outfit. Also among the prizes are a spa basket, women's jewelry, a women's leather handbag and all sorts of other goodies.
Cost: $45 per person, cash bar. We are accepting payments for the dinner at our September 11, 2018, general meeting or purchase tickets online.
Please respond on or before October 9, 2018. No tickets at the door. Space is limited, so reserve early.
If you have any questions or would like to help in any way, please feel free to contact Marsha Benovengo, Banquet Committee Chairperson at casabeno@msn.com or at (732) 780-7185.
The Banquet Committee is looking forward to seeing you on Saturday, October 20th at the 2018 CJTU Fall Banquet!
Cash bar drinks 6 pm, Dinner at 7 pm.
---
Trout in the Clasroom
Central Jersey TU Schools
2017 - 2018 School Year
Purnell School, Pottersville
Bright Beginnings, Learning Center Piscataway
Spotswood High School, Spotswood
Watchung Hills Regional High School, Warren
Monroe Township High School, Monroe Township
Alexander Batcho Intermediate School, Manville
Van Holten Primary School, Bridgewater
Angelo L Tomaso Elementary School, Warren
New Road School, Parlin
Middlesex County Vo-Tech, East Brunswick
Perth Amboy High School, Perth Amboy
Edmund Hmieleski ECC, Perth Amboy
Bridgewater Raritan High School, Bridgewater
Warnsdorfer School, East Brunswick
---
CJTU June Meeting Picnic
---
Tuesday, February 12, 2019
Tim Flagler
Unforgettable Patagonia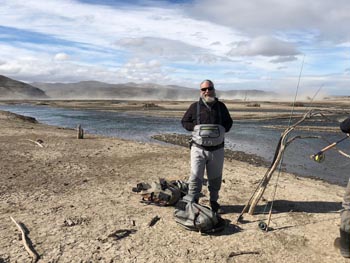 A trip to Patagonia should be on every fly fishers bucket list. The fish, the food, the scenery and the warmth and humor of the people are like nothing you've ever experienced. Tim's video based presentation, shot in stunning 4K resolution, will make you feel like you're there! It includes footage of his experience during his first trip to the region and perhaps explain his zeal for returning annually. Big fish, big country, big meals that you have to see to believe. 
Tim Flagler, videographer and fly tier, is the owner of Tightline Productions, L.L.C., a video production company located in Califon, NJ. Although Tightline produces video programs over a wide range of topics, their specialty is fly fishing. Almost every week they produce a new fly tying or "how to" video which appears not only on their Vimeo and YouTube channels but on Midcurrent and the Orvis fly tying blog as well. These videos often get picked up by other sites too, including Frankenfly, Chiwulff, The Limp Cobra, Globalflyfisher, Gink and Gasoline and Wideopenspaces, just to name a few. Many of the tying videos take the viewer well beyond just the tying of the fly and show what it looks like underwater, what natural it represents and how it can be fished.
Tuesday, March 12, 2018
Tim O'Neill
"Shad Fishing 101"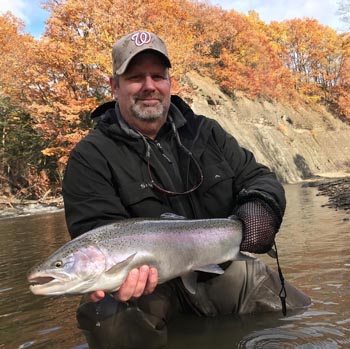 A look through the different Shad species we have available to us. Gear and techniques will be discussed as well as fly design.
Tim is the founder and owner of O'Neill's Fly Fishing, an online community dedicated to all aspects of fly fishing culture. www.oneillsflyfishing.com He began fly fishing at the age of 10. During the following 3+ decades, his passion for the sport carried him through many parts of the industry including: retail sales, commercial fly tying, lecturing, seminar teaching, and guiding. Currently he operates O'Neill's Fly Fishing as well as being the owner of the Nor-vise fly tying system. www.nor-vise.com Tim's fly fishing exploits have been written up in publications like "Out and About Delaware" and "Delaware Today" as well as being interviewed for NPR radio to discuss fly fishing. He considers himself an educator first and gets the most pleasure in helping others learn more about this great sport. When asked what his favorite fish to catch is, his response is always the same: "the one on the end of my tippet." Please feel free to contact him to discuss all things fly fishing at tim@oneillsflyfishing.com
---