General Meeting
Tuesday, March 11, 2014
Jon Dugan
Macro Invertebrates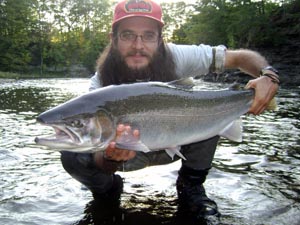 Jon Dugan the NJDEP/AmeriCorps Watershed Ambassador will present to us how certain macro invertebrates have varying degrees of sensitivity to pollution. A macro invertebrate is a creature without a backbone that can be seen with the naked eye. The presence of many varieties of macro invertebrate indicates a healthy stream. Inversely the absence of macro invertebrates indicates poor stream health. The over-all health of a stream can be evaluated by enumerating all the species of macro invertebrates found in samples collected from a stream during a set time. Jon will also cover stream entomology & how to properly i.d. insects that are in the river.
Tuesday, April 8, 2014
"Not Just Trout"
Wendell 'Ozzie' Ozefovich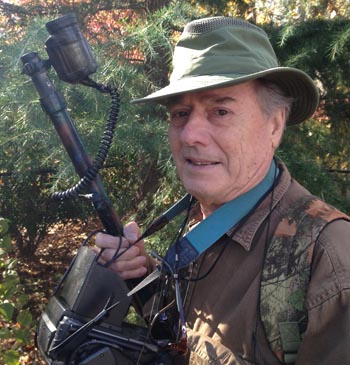 Not Just Trout answers the question "Why do we love to fish?" It includes the most picturesque and unique clips of trout in their liquid environment together with other creatures, flora and fauna – both above and below the water's surface – that were encountered over many years while fishing and filming the underwater world of trout.
Also included are the transformations that wild brook trout go through from the color change in early autumn, to the actual spawning sequence -- and I must include, lots of laughs.
Here is a video link: http://youtu.be/R3ykeeE3ECI
Tuesday, May 12, 2014
"Tuna on the Fly "
Tom Gilmore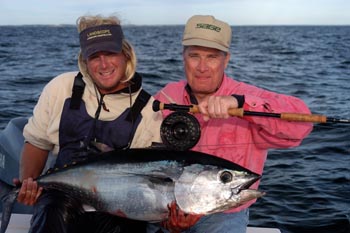 After almost three decades of service, Tom Gilmore retired in the spring of 2012, as President and CEO of the New Jersey Audubon Society, the oldest and largest conservation organization in the state of New Jersey. During that time, he led the conservation community through numerous extraordinary environmental achievements. It's no surprise that Tom has received numerous awards and honors, including the Conservation Medal from the Daughters of the American Revolution, New Jersey Environmental Lobby's first Environmental Legacy Award, Tom was recognized by The Star Ledger newspaper (New Jersey's largest daily paper) as Winner of the Year, for his work to save the Highlands. New Jersey Monthly magazine recognized Tom as one the "101 Most Influential People in New Jersey." He was also awarded the Governors Environmental Achievement Award by both Governors Corzine and Christy.
In addition to being an accomplished environmentalist, Tom is an avid fly fisherman. He has fly fished for around the world for over 40 years. Tom is a well know fly fishing celebrity having given well over 100 programs on fishing for all most all of our North American He is an accomplished author having written numerous articles and is currently working on his fourth book, East Coast Trophy Tailwaters, which will be published in the fall of 2014.
. His first book, False Albacore, was published in 2002, his second book entitled, Tuna On The Fly, was published in the Fall of 2006. Tom's third book a Flyfisher's Guide to the Big Apple was published in 2011.
American Legion Hall
137 New Market Road
Dunellen, NJ
Meeting starts at 8 PM
Non Members are always welcome!
News & Events
2014 Fly Tying School
Now in Session!


Trout Stocking Public Meeting Saturday, March 8, 2014
The NJDEP Division of Fish and Wildlife will be holding its annual Trout Stocking Public Meeting on Saturday, March 8, in the Centenary Theater (aka The Little Theater), located in the Seay Building, Centenary College, Jefferson Avenue, Hackettstown, Warren County. The meeting begins at 10 a.m.
Division biologists will present information on the proposed policy regarding management of the furunculosis disease at the Pequest Trout Hatchery. Information on the proposal to alter spring trout stocking in order to protect the state's fisheries resources from the disease while providing quality fishing opportunities will also be presented.
This important meeting will have a comment period for anglers to ask questions, voice their opinions, and give suggestions regarding the proposed changes to the 2014 trout stocking program.
Information about the proposed policy and proposed trout stocking plan and allocations, as well as directions to the meeting location, see http://www.njfishandwildlife.com/news/2014/troutmtg14.htm on the Division's website.
Coldwater Conservation School
June 26 - June 29, 2014
The NJ School of Conservation in Sussex County will again be the host site for an exciting Coldwater Conservation School being offered by the NJDEP Division of Fish and Wildlife and the NJ State Council of Trout Unlimited and its supporting chapters. The School will be held June 26 - June 29, 2014 and is open to youths who will be between the ages of 11 and 14 at the time of the program.
The goal of the School is to foster a knowledge and appreciation of trout and the coldwater habitats on which they depend. Understanding all of the elements necessary for healthy streams and good trout habitat helps students realize the importance of stream and water quality protection, and roles they can play in stream conservation.
Division of Fish and Wildlife biologists and instructors from Trout Unlimited will teach sessions about stream ecology, fish habitat, fish biology and identification, aquatic insect identification, fly tying, fly-casting, and stream restoration. There will also be evening programs where students will learn about reptiles and New Jersey's black bears.
The cost of the Coldwater Conservation School is only $275.00, which includes food, lodging and equipment for the entire 4 days and 3 nights.
Applications are due no later than April 1, 2014. Students accepted into the School will be notified by the end of April. Last year's School was very successful with more than 30 participants, so be sure to get your applications in on time!
Information about the Coldwater Conservation School including the official application can be found at: http://www.njfishandwildlife.com/conservation_school.htm .
Information about Trout Unlimited can be found at: http://www.njtu.org/ and the NJ School of Conservation at http://csam.montclair.edu/njsoc/ .
Questions about the School should be directed to Jessica Griglak at 908-637-4125 x 112 or jessica.griglak@dep.state.nj.us .
Trout in the Clasroom