General Meeting
x
Tuesday, February 9, 2016
Rabbi Eric Eisenkramer
"The Fly Fishing Rabbi"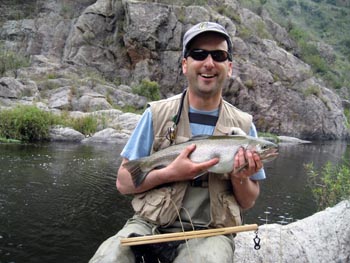 Rabbi Eric Eisenkramer, also known as the Fly Fishing Rabbi, will guide us on an exploration of the the spiritual side of casting a fly. With pictures, discussion and readings from his book, Fly-Fishing; The Sacred Art, Rabbi Eisenkramer will share what fly-fishing has to teach us about reflection, solitude and the wonders of the natural world. Topics will include: fly-fishing and harmony, fly-fishing in Argentina, a pilgrimage to Montana, conservation and fly-tying.
Rabbi Eric Eisenkramer is the co-author, along with Rev. Michael Attas of Fly-Fishing The Sacred Art: Casting A Fly As A Spiritual Practice. He writes a blog, The Fly Fishing Rabbi and is a contributor to Trout magazine and Reform Judaism magazine. Rabbi Eisenkramer is the spiritual leader of Temple B'nai Shalom in East Brunswick NJ and he fishes the cold water streams of New Jersey, New York and Pennsylvania.
American Legion Hall
137 New Market Road
Dunellen, NJ
Meeting starts at 8 PM
Non Members are always welcome!
News & Events
CJTU Fly Tying School 2016
Fly Tying Classes are now in session
Pequest Open House
Saturday and Sunday, April 2 and 3, 2016
10:00 a.m. - 4:00 p.m.
Come celebrate the arrival of spring and the opening of trout season at the Pequest Trout Hatchery Open House. There are activities for people of every age. Come see some of NJ's wildlife artists, taxidermists and carvers. Get to know some of NJ's conservation groups and learn what they do for NJ's natural resources. Visit with historical reenactors or learn how to safely shoot a bow at our archery range.
There are many activities for kids including fishing in the education pond for kids between the ages of 8 and 16 (all equipment provided), younger kids can try to catch a fish in our kiddie trout tank, or visit our exhibit hall to see some of New Jersey's animals. You can even take a self-guided tour of the hatchery and see where more than 600,000 trout are raised each year for NJ's rivers and streams. Don't forget to visit the Sportsmen's Flea Market for some great deals on fishing and hunting related items.
Trout Season Opens April 9, 2016
Fly Casting and Fishing for Beginners
Pequest Hatchery
Saturday, June 11, 2016
10:00 a.m.
Learn the basics of fly casting and fly fishing in this program run by Wildlife Conservation Corps volunteers from Central Jersey Trout Unlimited. Topics will include equipment, knot tying, entomology, stream tactics and casting techniques. This program is geared for ages 8 and above. Adults in the program should have a valid NJ fishing license which can be purchased the day of the event.
Trout in the Clasroom