General Meeting
Tuesday, September 10, 2019
Rob Shane
TU Mid-Atlantic Organizer
Protecting Wild Trout
Trout Unlimited has been working to protect populations of wild trout in the Delaware River Basin since 2011. The approach has been three fold: 1) protect existing populations 2) discover new populations and 3) restore extirpated or threatened populations. Rob will give a rundown on how TU has been successfully achieving its goals, thanks in large part to volunteer efforts, and our plans to continue this process into the future.
Rob Shane is the Mid-Atlantic Organizer for Trout Unlimited working out of his home in East Stroudsburg, PA. He spends most of his time travelling to meet with chapters and outdoor groups to spread the word about TU's efforts and gather support for key legislative priorities.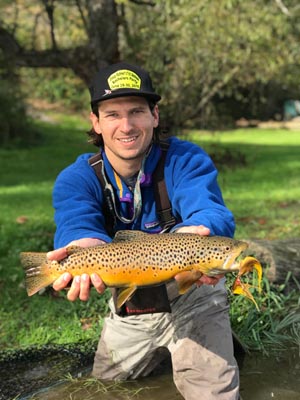 ---
American Legion Hall
137 New Market Road
Dunellen, NJ
Meetings starts at 7:30 PM
Non Members are always welcome!
---
News & Events
---
Trout in the Clasroom
Central Jersey TU Schools
2017 - 2018 School Year
Purnell School, Pottersville
Bright Beginnings, Learning Center Piscataway
Spotswood High School, Spotswood
Watchung Hills Regional High School, Warren
Monroe Township High School, Monroe Township
Alexander Batcho Intermediate School, Manville
Van Holten Primary School, Bridgewater
Angelo L Tomaso Elementary School, Warren
New Road School, Parlin
Middlesex County Vo-Tech, East Brunswick
Perth Amboy High School, Perth Amboy
Edmund Hmieleski ECC, Perth Amboy
Bridgewater Raritan High School, Bridgewater
Warnsdorfer School, East Brunswick
---