General Meeting
General Meeting
Tuesday, June 16, 2015
"CJTU Picnic Meeting"
or
"A Meeting with Food""
Come join us for what has become a very popular event: our 3rd annual "A Meeting With Food", to be held in the grove behind the American Legion Hall on Tuesday, June 16th, from 5 to 8 pm. A great opportunity to wind into the summer and exchange some spring fishing stories with new and old friends. We will be cooking up a bunch of burgers and hot dogs, soft drinks and water, and the American Legion Hall will have it's usual full bar available just steps away.
Price is only $10.00 .Hope to see you all there !
Remember that the June 16th meeting is on the Third Tuesday of the month and starts at 5:00 pm.
There are no meetings during the months of July and August. Next General Meeting will be on September 8, 2015.
American Legion Hall
137 New Market Road
Dunellen, NJ
Meeting starts at 8 PM
Non Members are always welcome!
News & Events
Point Mountain Project
Fred Simonson
Finally Underway!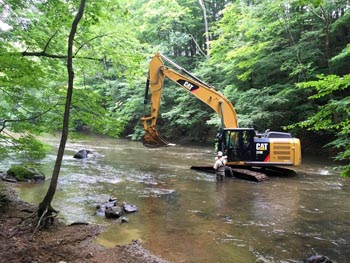 The Point Mountain Stream Restoration Project has finally reached the "Doing Stage". All permits, permissions, and endangered species studies are in hand and in-stream work will officially begin on June 16th . We had our first official work day at Point Mountain on Wednesday June 3rd when a group of CJTU members spent some time clearing & trimming overhead tree limbs as well brush from the access road that the heavy equipment will use to reach the Musky.
After the work session Brian Cowden took the group on a quick river tour of what will happen where in the restored river section. The work will dramatically improve the fishable water in the Point Mountain TCA stretch. CJTU has every right to be proud of the improvement as we are a major project sponsor, both financially and with our physical labor as well.
Trout in the Clasroom